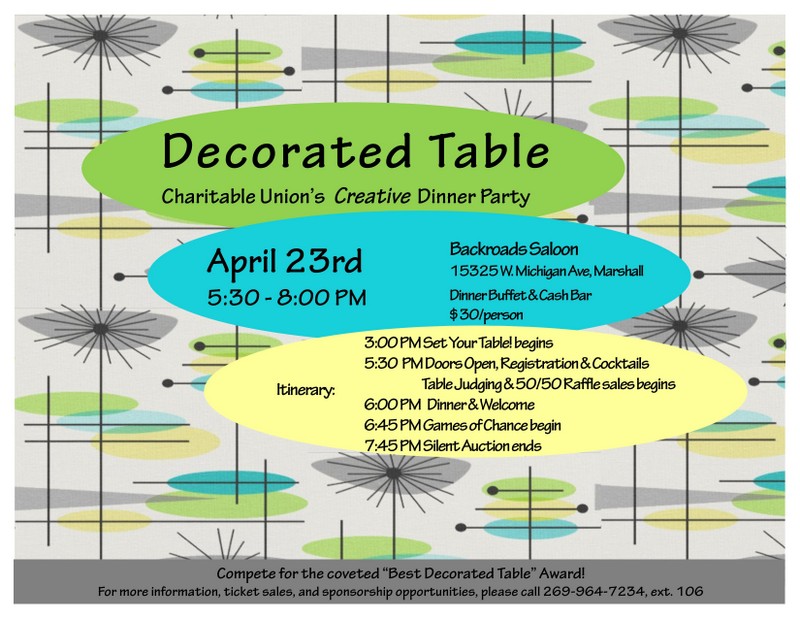 Decorated Table Charitable Union's Creative Dinner Party
Join us for Decorated Table, the Charitable Union's Creative Dinner Party. Occurring April 23rd at the Backroads Saloon, Decorated Table is a chance to "play" with friends, drink a little wine, and help the Charitable Union raise funds.
Decorated Table will feature plenty of games of chance for coveted prizes, a silent auction of amazingly hot items, and a cornucopia of great eats… all for $30/person.
Join us starting at 5:30. Grab yourself a cocktail (cash bar), and start bidding on silent auction items before dinner. Bring a friend! Bring a couple of friends! Buy a table and decorate it for the chance to win the coveted Best Decorated Table award for 2018.
Tickets are $30.00 per person. You can register by choosing the "Register Now" button on this page. You will be able to pay now or choose to pay at the door, your choice.
Questions? Please call Amy Robertson at the Charitable Union, 269-964-7234 extension 106.