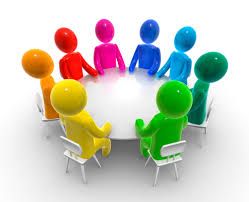 Shoppers' Council
Shoppers' Council began in 2006 as an alliance between staff and clients.
Its goal is to provide a vehicle for clients to voice their concerns and
make suggestions.
One of the goals of Charitable Union leadership is to be a resource to
help other clients build better futures for themselves and their families.
Each member of the Shoppers' Council helps to bring that about by
sharing their own stories, talents and expertise.
As special needs arise, it is our goal to have a Shoppers' Council member
help clients "walk through" the often cumbersome bureaucracy that exists.
Members can help with FASFA forms to apply for financial aid or help with
identifying other agencies in the area that might be of service to clients.
With the help of our Council member, that client is hopeful that college
will be in his future.
Always with an eye on improving our services to all clients, we share
ideas on how we can better operate in today's difficult economic reality.
We hope that if you have a special need we will be able to assist you in
finding a solution.
The council is made up of individuals from all walks of life; with all sorts of
stories. But with all of the differences, there is one common goal: to help
those in need and to better serve clients.
Since the Council was formed some of its achievements have been: to
administer a shoppers' questionnaire which helped us come to the
decision to no longer have color coded shopping days; the members of
the Council have volunteered their time and talents not only here but at
many events within the community. These folks have given many hours of
their time to ensure that the mission of the Charitable Union continues
into the future.
If you would like to be a member of the Shoppers' Council, please contact us
at 964-7234.