Welcome to Charitable Union Serving Residents of Calhoun County Michigan
Job Opening for Gift Shop Co-coordinator
The mission of Charitable Union is to contribute to human dignity by providing clothing, bedding and small household items at no charge and connect people to resources in the community.  The Charitable Union Gift Shop is a retail operation featuring a mix of quality hand-made items and collectibles, operated to offer financial support for that mission.
Essential Function
Serve as an outgoing, dependable team player to work in conjunction with fellow team members, as well as volunteers.

Work with the other Gift Shop Co-Coordinator to establish and implement a solid business model, utilizing each other's strengths to complete all tasks.

Report to Executive Director.
Skill Requirements
Commitment to the mission and goals of the organization
Excellent communication and customer service skills. Bilingual in Spanish or Burmese preferred.

Sewing experience a plus.

Will train basic sewing knowledge within the first 60 days.
Prefer college degree and/or retail experience necessary to run the gift shop

Cash register and computer experience. QuickBooks knowledge a plus.

Good organizational skills

Ability to perform physical work, follow directions and work with public
Ability to work with and train volunteers working on specific jobs, including sewing, craft
      or special projects
Working Conditions
Physical range of motion includes bending stooping, lifting and moving bags and boxes weighing 25 lbs. or more, climbing steps, climbing step stool, sorting donations, sitting or standing for long periods of time, stretching or raising arms over head

Flexible hours or split hours ranging from 18 – 30 hours
Responsibilities Include: customer service, volunteer oversight, retail management, sewing expertise and other duties as assigned.
Complete job description is posted on our website: http://www.charitableunion.org on the Job Opening tab
Everyone Deserves a Warm Winter Coat
A few weeks ago, as my staff, volunteers, and I were putting away the final items from our children's winter coat distribution events, a community leader stopped by and said, "Well, it certainly looked like you had a successful project." I looked at him and said, "Yes and no." He looked a little puzzled as he said, "I can't believe with the hundreds of winter coats and clothes you gave out today that you can say that this wasn't a booming success." I explained that at most of these events, we end up not being able to give out enough clothes because we run out of coats, especially for children.
"When we bring out our inventory for these occasions we see, fairly quickly, that we won't have enough to give to everyone.  That's when some of our staff and volunteers go out to local retailers and buy as many children's sizes as they have on their racks, that we can afford, and buy more to bring to these events.  Sadly, almost every time, we again run out of some sizes.  So, that means many families are not served as well as we would have liked and hoped." He stood there in disbelief.  "But you gave out literally hundreds of garments today in such a short time.  I saw that with my own eyes.  I saw the smiling faces of the children and the appreciation from their parents as you helped them select their winter coats." "Yes," I said, but what you didn't see was that there were many more families waiting that could not come in to get their children coats simply because we didn't have their sizes."
The scenario I just described is something that happens more often than not during our events.  It breaks our hearts when we are not able to serve those in our community who are in such need.
I don't want you to get the wrong idea or wonder what it is we do. So, allow me to pause for a moment to express how much we appreciate all of the donations of clothing and dollars we receive annually.  We do appreciate your kindness very much. 
But, there is so much need for these basics of life and we struggle because we're unable to serve everyone.  The thought of even one child going without a warm winter coat or boots or mittens is disheartening. No one should be without warmth during the long Michigan winter months.
Having said all of that, please don't misunderstand, during this season of giving thanks, we are so very grateful to everyone who collects clothes through the many clothing drives held on our behalf.  We also want to thank those who drop off their gently used clothing at our Donor door on Calhoun Street.  We appreciate those who volunteer and make mittens and winter hats for our clients.  And we truly are thankful to those who support our programs through their annual contributions both in-kind and financially.  You are why we have been able to serve our community for the past 129 years.                         
But our work here in the community is not done.  And it never will be until every child has warm clothing in the winter, and clean outfits to wear to school. It's not too late to help.  We are still in desperate need of winter coats and children's clothing of all sizes. Please know that your continued assistance will not only bring warmth to those children in need of clothes, but your own heart will be warmed for helping those in need.  You make it possible for Charitable Union to offer 'Help That Brings Hope.'   Thanks to you, we have been the 'fabric' of this community since 1887. In the spirit of the season and on behalf of our entire Charitable Union family, we wish you happiness, great joy, and good health.
The Gift Shop @ Charitable Union T-Shirt Quilts Custom Made
Preserve your memories with a custom made T-Shirt quilt.  Each quilt is machine quilted, flannel backed and designed using your T-Shirts. Prices vary according to the size you order. For more information contact Jenny at Charitable Union or stop in to place your order. They are wonderful graduation gifts or a great way to remember special times in your life.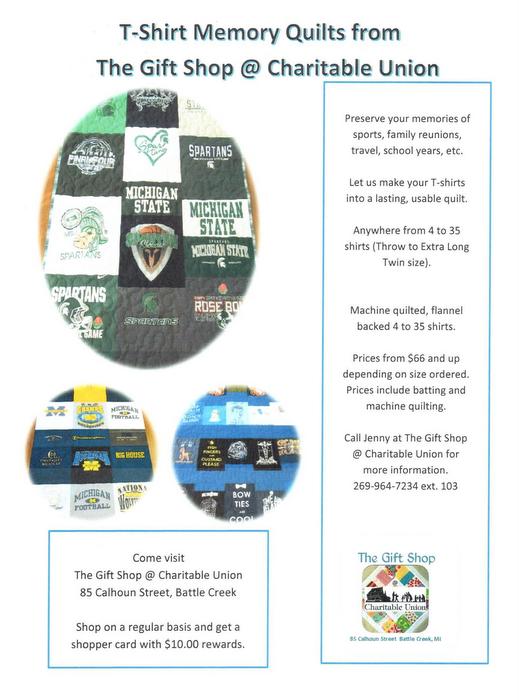 CURRENT CLIENT STORE HOURS
| | |
| --- | --- |
| Monday, Tuesday, Wednesday | 9:00am - 4:00pm - You must be signed in by 4:00 but may shop until 4:45 |
| Thursday and Friday | Closed for shopping |
| 2nd Saturday | 9:00am - noon |