Charitable Union Serving all of Calhoun County Michigan
---
---
UPCOMING EVENTS TO CELEBRATE 130 YEARS OF SERVICE
---
Back-to-School Outfit Give Away Events
Are you part of the free/reduced cost lunch program?
Then you are also eligible for Charitable Union "Back-to-School" clothing distribution for students in K-12. 

Each student will receive an outfit (skirt/pants, blouse/shirt, underwear and socks). 
You must go to the site in which your child(ren) is/are registered and
have a voucher (available Mondays, Tuesdays and Wednesdays from 9:00am to 4:00pm
from Charitable Union reception desk – or emailed to you from your school).
DATES AND DISTRIBUTION SITES ARE:
August 15       Harper Creek High School                      
August 16       Albion Community School
                              (Marshall Opportunity High School
August 17           Marshall Middle School
 
           For Battle Creek Public, Lakeview, Pennfield, Charter Schools, St. Philip, etc.
August 21        W.K. Kellogg Gym
August 22       W.K. Kellogg Gym
August 23        W.K. Kellogg Gym

DISTRIBUTION TIMES AT ALL SITES IS 2:00-6:00PM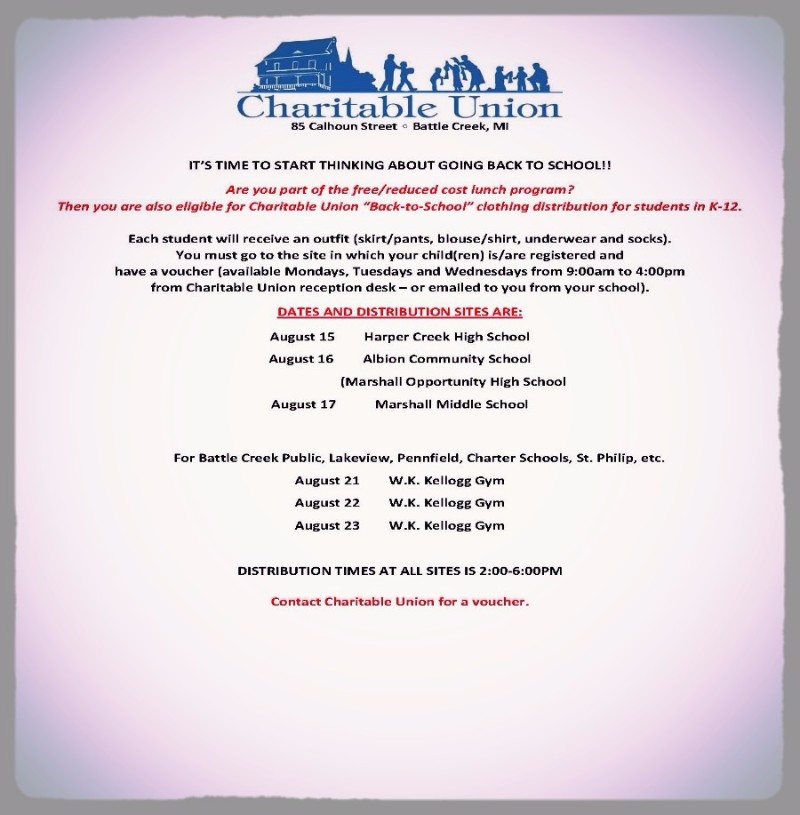 ---
130th Anniversary Celebration Back-to-School Fair - August 29
This year Charitable Union celebrates 130 years of service to Battle Creek. To celebrate we are hosting a Back to School Fair on Tuesday, August 29 from 3-7 on the campus of Battle Creek Central High School. Students in grades K-12 throughout Greater Battle Creek are invited to attend with their families. FREE food, school supplies and games. Click here to join the event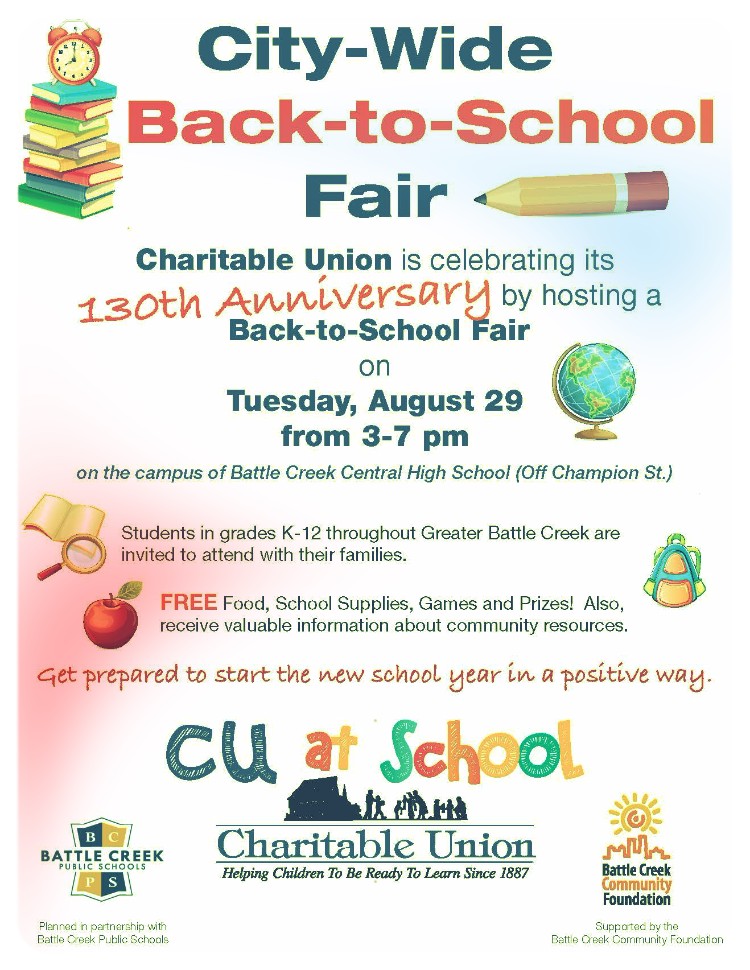 ---
The Gift Shop @ Charitable Union T-Shirt Quilts Custom Made
Preserve your memories with a custom made T-Shirt quilt.  Each quilt is machine quilted, flannel backed and designed using your T-Shirts. Prices vary according to the size you order. For more information contact Jenny at Charitable Union or stop in to place your order. They are wonderful graduation gifts or a great way to remember special times in your life.