Charitable Union Serving all of Calhoun County Michigan
---
---
UPCOMING EVENTS TO CELEBRATE 130 YEARS OF SERVICE
---
Winter Coat Distribution
Winter coat distribution for kids at Charitable Union has ended. If you missed the chance both children's and adult coats will be out in the client store beginning November 1st. We will have coats available all winter long. Only one coat per client per season is available, this will insure that coats are available for everyone who needs one.
If you have coats that you are not using, please consider donating them to Charitable Union. You can also make financial donations on our website here.
---
Gift Shop Holiday Sale November 6 - 11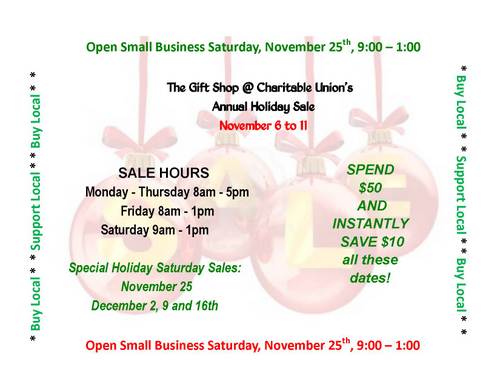 ---
The Gift Shop @ Charitable Union T-Shirt Quilts Custom Made
Preserve your memories with a custom made T-Shirt quilt.  Each quilt is machine quilted, flannel backed and designed using your T-Shirts. Prices vary according to the size you order. For more information contact Jenny at Charitable Union or stop in to place your order. They are wonderful graduation gifts or a great way to remember special times in your life.