Charitable Union Serving all of Calhoun County Michigan
---
Decorated Table Charitable Union's Creative Dinner Party
Join us for Decorated Table, the Charitable Union's Creative Dinner Party!  Occurring April 23rd at the Backroads Saloon in Marshall. 
The Decorated Table is a chance to "play" with friends, drink a little wine, and help Charitable Union raise funds. Featured will be: plenty of games of chance for coveted prizes, a silent auction of amazingly hot items, and a cornucopia of great eats… all for $30/person.
Join us starting at 5:30. Grab yourself a cocktail (cash bar), and start bidding on silent auction items before dinner! Bring a friend! Bring a couple of friends! Buy a table and decorate it for the chance to win the coveted Best Decorated Table award for 2018.
Call Amy at 269-964-7234 ext. 106  today to RSVP
or Email: Amy@CharitableUnion.org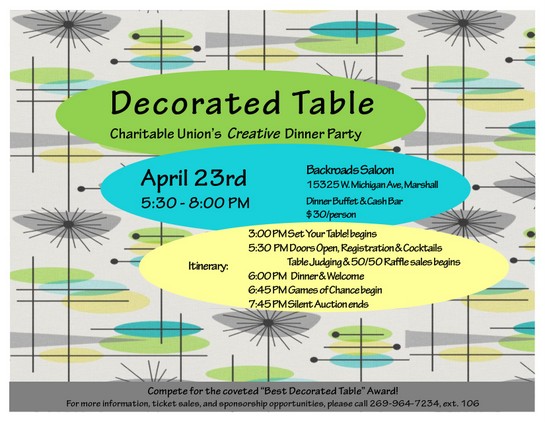 ---
The Gift Shop @ Charitable Union T-Shirt Quilts Custom Made
Preserve your memories with a custom made T-Shirt quilt.  Each quilt is machine quilted, flannel backed and designed using your T-Shirts. Prices vary according to the size you order. For more information contact Susan Kopka at Charitable Union or stop in to place your order. T-Shirt quilts are wonderful graduation gifts or as a great way to remember special times in your or a loved one's life.